Looking for a new career, a dental manager may be the perfect option for you. but who is a dental manager and what is a dental manager job description?
A Dental Manager or Dental Office Manager is responsible for overseeing all administrative duties in a dental office or orthodontic facility.
He is responsible for the management of staff schedules and meetings, setting office budgets and monthly payroll, and hiring and training administrative staff amongst many other things.
With his knowledge of orthodontic terminology and billing, he ensures the smooth running of the clinic or dental practice by performing a number of administrative tasks.
A Dental Manager also assists patients and medical staff by answering incoming calls, organizing charts, and admitting new patients.
Usually, a Dental Office Manager usually has a background in medical office processes and procedures and advances into the position after time spent as a medical or dental office assistant.
Dental Manager Job Description
Dental manager job description involves a number of duties including administrative, financial, marketing, management, and customer service duties.
They ensure the organization of administration and human resources-related tasks. They support the dentists and assign tasks to the reception staff.
Here is a list of the top ten duties and responsibilities of a Dental Manager.
Schedules client appointments
Supervises and appoints staff and is in charge of employee payroll
Manages all financial matters of the practice
Manages insurance claims
Implements and enforces company protocols, procedures, and policies
Responsible for resolving complaints between clients and staff
Responsible for maintaining the organization's records and keeping them organized
Responsible for marketing and public relations
Makes reports for the executives
Responsible for authorizing overtime and other expenses
Other duties of a Dental Manager include implementing cost-cutting measures to work within a budget, scheduling regular equipment and building maintenance and repairs, planning office celebrations, including award ceremonies and other events, and participating in performance evaluations for employees.
A dental manager also oversees the front desk, interacts with customers, establishes a pay period schedule, and decides the payment method (paper checks or automated).
Read Also Housekeeper Duties | Job Description
Necessary Skills And Qualifications Of A Dental Manager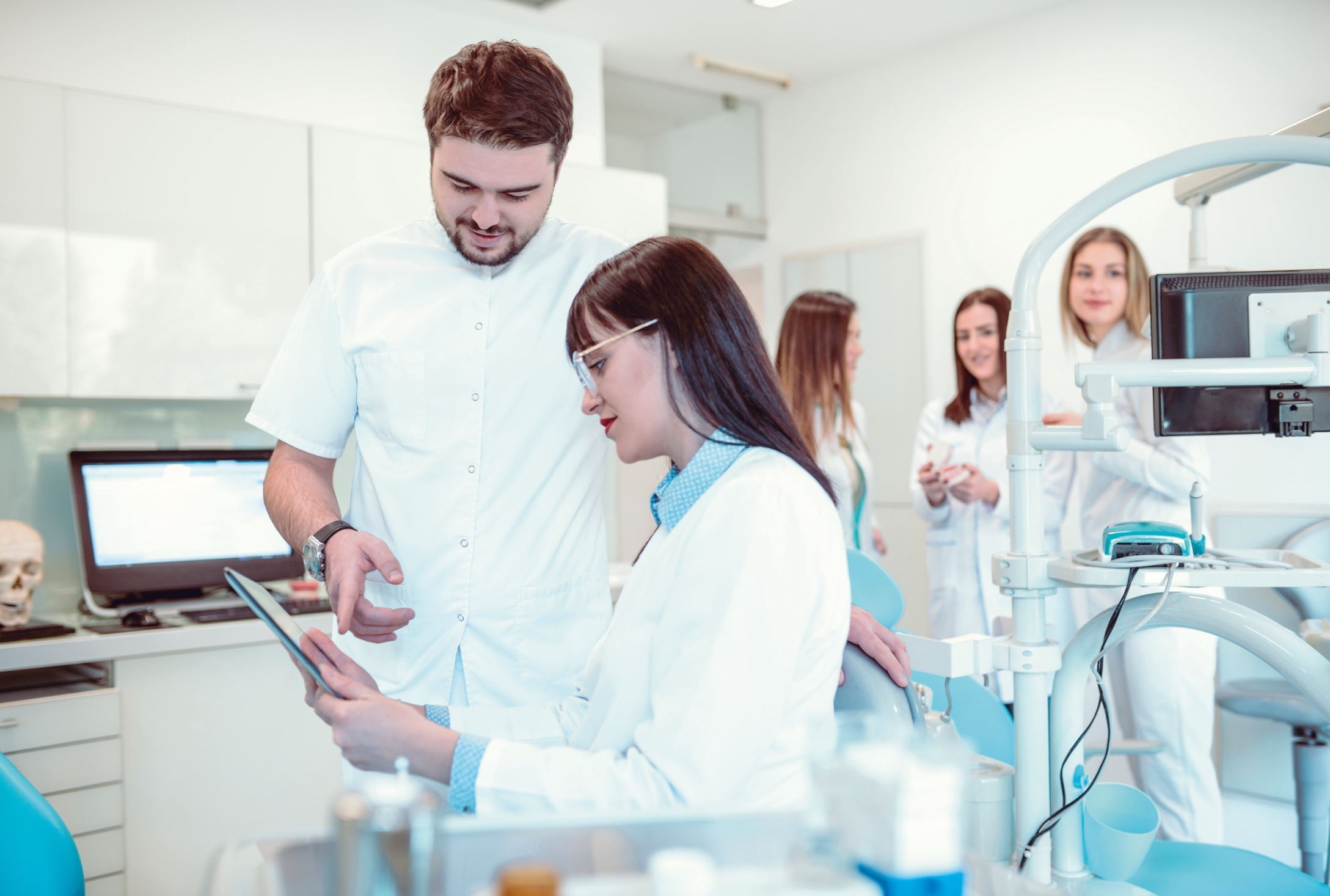 Dental Managers are expected to perform several tasks ranging from financial to management, and HR-related tasks. To perform or navigate these duties effectively, a dental manager must be equipped with certain skills.
They include;
1. Leadership Skills
A dental manager must be able to demonstrate good leadership qualities. This includes being able to oversee processes, steer employees toward implementing company policies and coordinate them to achieve goals to ensure operations run smoothly.
2. Conflict Resolution Skills
Some clients may be inpatient and conflicts may arise as a result. A good dental manager should be able to settle disputes and manage conflicts between patients and other employees.
3. Communication Skills (Written And Oral)
It is important that a dental manager possesses effective communication skills, and have good public relations as he interacts with patients and other employees most of the time. He must also have stong written communication skills when making reports to physicians.This ensures that operations in the dental office go on a smooth sail.
4. Computer Skills
Most of the tasks done by a dental manager have to be done with a computer. This includes email correspondence, financial transactions, scheduling, rescheduling, and canceling of appointments.
A dental manager should have knowledge of Word Processing and spreadsheets, and should know how to operate a photocopier, fax machine and other equipment.
5. Organizational Skills
Dental managers are responsible for keeping patient records, financial records, and other sensitive information. He should have a knack for organizational skills including filing and sorting.
6. Have Knowledge Of Safety Regulations And Compliance Standards
It is important as a professional to know safety reguations and to ensure that the dental practice adheres to Occupational Safety and Health Administration compliance standards.
Other necessary skills and qualifications of a Dental Manager includes;
Having an outsanding customer service skills. Must be friendly and polite.
Should be able to explain complex concepts to patients and other employees.
Be able to promote the business through social media.
Should have exceptional knowledge of medical and dental terminology and processes
Maintain and order office and medical supplies as requested by attending dental staff
Read Also Hotel Receptionist Job Description, Key Duties and Responsibilities
Dental Manager Education And Training Requirements
The minimum educational requirement for a dental manager is a high-school diploma, GED or any its equivalent.
For a higher advantage, an associate or bachelor's degree in business, office administration, business administration, healthcare administration or any other field would be preferred.
A holder of the National Dental Assisting Examining Board certificate (NDAEB) is also qualified for the role.
While dental office managers receive on the job training, which involves, learning the office's software programs, front office procedures and how to provide quality customer care, you can enhance your knowledge through any of the certification and training programs available.
DALE Foundation offers certification courses in Financial Reporting for the Dental Office and HR Fundamentals for the Dental Office.
The American Association of Dental Managers (AADOM) offers trainings through free webinars and annual national conferences.
Read Also What Does A Cosmetologist Do?
Dental Manager Experience Requirements
Candidates are expected to have at least two years of experience in office management especially in a medical or dental front office setting. However, people who have worked longer in the industry may be preferred.
Aspirants can start their careers as a dental receptionist where they can gain this experience. Many dental managers also started out as dental assistants.
Dental Manager Salary
On average, a Dental Manager earns $36 per hour but the salary typically falls between $32 and $41.
Several factors affects the rates including level of education, certifications, location, employers, additional skills and experience.
Conclusion
A dental manager performs a lot of tasks in the dental practice.
Its necessary that he possesses the needed skills including effective communication skills, leadership skills and organizational skills to ensure the smooth running of the dental office.
Has this article been helpful? Kindly share and leave a comment in the section below.