Within corporations, an assistant vice president is a senior executive position.
In the financial services industry, as well as at schools and universities, this is a fairly popular position.
A vice president is usually their boss, and they report to him or her.
Assistant vice president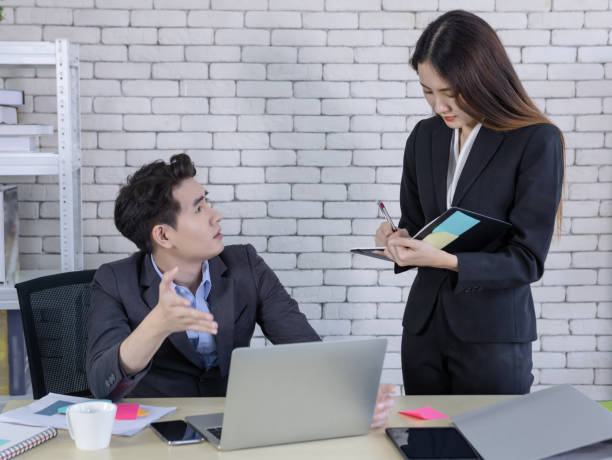 In the financial services industry, an assistant vice president is usually one rung below a vice president.
Within brokerage, securities, and investment banking firms, as well as academic institutions, it's a fairly frequent position.
Assistant vice presidents' responsibilities differ based on the company they work for.
Screening new management hiring, managing departmental promotions, and analyzing the performance metrics that their superiors rely on are all common responsibilities.
Read Also How To Determine If A Job Is A Good Fit For You
How an Assistant Vice President works
In most firms, the assistant vice president job is a senior management post.
Assistant vice presidents may or may not be in charge of supervising other employees, although they are usually in charge of mentoring and guiding new staff.
An assistant vice president may work as a project manager's team leader or directly with clients.
They may also be expected to handle the firm's investment analysis and oversight, and they will normally report to the vice president and other senior members of the organization.
The work that an assistant vice president undertakes differs depending on the company.
In a small company, an assistant vice president may be responsible for a variety of tasks.
An assistant vice president's function may be more specialized in a larger company.
Top executives earn a median yearly compensation of $104,690, according to the Bureau of Labor Statistics.
Firms and universities in major urban areas tend to pay more than those in remote locations, hence location has a big role in salary.
Employee salary is inextricably linked to a company's size and annual revenue.
Pay varies depending on the function and responsibilities of vice presidents and assistant vice presidents at a large bank, for example.
Pay increases are often generous and proportionate with performance, location, and the firm's revenue. Depending on the nature of the company, profit-sharing, bonuses, and commissions may be paid.
Read Also How To Find Your Employment History
Duties/responsibilities of an assistant vice president
Assistant vice presidents resume responsibilities that illustrate typical tasks they are expected to accomplish in their roles.
Implement a budget report that will allow the unit to meet its spending goal of $25MM/397 FTE.
Manage daily ACH and wire transfers, as well as ensure that all investor distributions are executed.
Prepare presentations and contracts, manage logistics, and ensure that quality and safety standards are met.
Lead the implementation of a new third-party ERP system, bringing a sophisticated enterprise management system to a company that had never had one before.
Utilize consultative selling techniques to increase revenue processing volume by involving all important stakeholders and developing internal investment relationships.
Maintain assistant vice president's calendar; compile assistant vice president cost reports; check RSD/Staff expense reports for accuracy before submitting them to assistant vice president for approval.
Develop grammar development, analysis, and tuning tools and utilities in Perl, Java, and C.
Create a program that uses SQL code to solve problems creatively and come up with the most effective and efficient design for the client.
For clients, provide services and organize professional, business, and private meetings/events.
Investigate call recording difficulties and capacity management by analyzing or creating SQL database queries.
As a result of your great carrier relationship management skills and program profitability, you've been promoted to assistant vice president.
Create a Java application to track all orders that pass through the order execution system.
Recommend ongoing AML system upgrades based on regulatory requirements, industry best practices, and/or corporate objectives.
Integrate PowerPoint experience with excellent presentation abilities to create and deliver effective marketing presentations for new clients.
Examine internal procedures and create and deploy process improvement solutions, such as SharePoint solutions, if necessary.
1. Skills
An assistant vice president ought to possess certain skills to help them excel
A few important skills include :
2. Risk management
The process of identifying, evaluating, and managing threats to an organization's resources and earnings is known as risk management.
Financial instability, regulatory responsibility, strategic management errors, incidents, and natural disasters are just a few of the threats that could develop.
IT security vulnerabilities and data-related risks, as well as risk management approaches to address them, have risen to the top of the priority list for digitally transformed enterprises.
On assistant vice president resumes, risk management is employed as follows:
For the bank's Finance and Risk Administration department, for designing and deploying a Microsoft Access-based executive salary planning and management system.
Market analysis, risk management, pricing, customer research/segmentation, and competition intelligence were all responsibilities of the team of seven analysts.
To expedite the Board's approval of public finance transactions, Risk Management was provided with appropriate credit information and transaction-specific information.
To manage corporate credit risk for 5 regional origination offices, developed and analyzed risk management reports, and offered policy suggestions.
Employees received substantial business-focused classroom and web-based training on topics like risk management and capital markets.
Read  Also 11 Top Short-Term Career Training Programs
3. Customer service
Customer service is the process of assisting current and potential customers by answering inquiries, resolving issues, and delivering good service.
The main goal of customer service is to build a strong relationship with clients so that they would return for more business.
On assistant vice president resumes, customer service is utilized in the following ways:
Oversee all departments directly related to credit information, product delivery, and customer support, as well as manage daily business operations.
By providing sales and customer service support to seven Business Banking Teams, I was able to generate new Treasury Management business and grow current connections.
Manage the resolution of a large number of customer service-related complaints, avoiding the need for potentially expensive lawsuits.
4. Supervision
Having someone's supervision involves keeping an eye on a procedure or a situation.
If someone is in charge of something, they are accountable for the project's completion.
Supervision is typically given to professionals who supervise their juniors or newcomers as they work on a project.
On resumes for assistant vice presidents, the term "Supervision" is defined as follows:
The SBU should be reorganized into a regional structure, which would allow for more control and oversight of geographically defined areas.
Maintaining supervision of Ceded Reinsurance claim procedures throughout New York and Philadelphia locations, led to attempts to unify management.
While ensuring alignment with corporate objectives, providing professional management of the nonconforming portfolio mortgage underwriting team's daily operations.
With the management of a $1 million+ political budget, for developed and implemented corporate contribution tactics, including home-based events.
By combining five regional branches into a united structure under the supervision of a single executive, the organization's efficiency was increased.
5. Project management
On assistant vice president resumes, project management is employed as follows:
Purchase, legal, information security, compliance, audit, project management, and executive management all have procedures in place for cross-divisional sourcing.
Within the Data/Contact Center, I was responsible for managing all network and infrastructure technologies that enable consumer banking, as well as providing cross-functional technical project management leadership.
To centralize, simplify, and streamline access to information concerning department initiatives, workers, and project resources, a project management system was created.
Assume to collaborate with project management and leadership to develop and arrange training for agents who were chosen to take part in the business continuity exercise.
Managed interactions between appropriate Infrastructure IT teams, development, and senior business divisions while working within an established SDLC project management process.
6. Salary
This value is not constant and may vary from firm to firm; the one mentioned is:
The Assistant Vice President's annual compensation is $120,127, which works out to $57.75 per hour.
Assistant Vice Presidents typically earn between $86,000 and $167,000 a year, with the top-earning Assistant Vice Presidents earning $81,000 more than those on the lower end of the scale.
7. Requirement
In finance, most large companies demand an assistant vice president to have a finance MBA and at least five years of practical experience.
A bachelor's degree in any discipline could be enough to get in on the first floor, as long as you're willing to work your way up over the next few years.
Keep in mind that, especially in smaller firms, experience is more valuable than the specific nature of your education.
Depending on the scope of responsibilities, assistant vice presidents in educational settings may be expected to have an Ed.D. or Ph.D.
They're required to have five or more years of experience, just like their finance counterparts.
Assistant Vice Presidents should be able to fulfill deadlines and work well under duress in addition to their degree and experience. They'll also require interpersonal abilities.
They'll be expected to interact effectively with staff and other members of the executive team, even if they don't deal directly with clients.
It's crucial to have excellent oral and written communication abilities.
A typical vice president position is the next rung up the corporate ladder in terms of income and responsibilities for an assistant vice president.
When a job comes up or the company grows and expands, it's customary for the assistant vice president to move up to this position.
8. Compliance
The term "compliance" refers to the upholding of all established norms.
It's also a good idea to make sure that all policies are followed when it comes to assuring compliance.
This is how to make sure assistant vice president resumes include compliance:
To achieve compliance with internal and external regulatory standards, the Latin American Fixed Income Operations department was restructured and control mechanisms were implemented.
To assure compliance and/or rectification of non-compliance concerns, information was organized and exchanged between owners, property management businesses, and government organizations.
Developed policies and procedures to ensure that the organization's goals, as well as federal, state, and local regulatory standards and ordinances, were met.
To guarantee compliance with all government and statutory employment regulations, led workplace investigations and coached/counseled managers on disciplinary measures and terminations.
Audited third-party databases to ensure that contractual commitments were met and that product information was complete and accurate.
Conclusion
Not only does this article explain what an assistant vice president is, but it also goes into detail on how to become one.
This includes everything from abilities to requirements and more.