Many individuals conduct job searches via various means. One of those means includes career fairs.
In truth, are career fairs worth it? Yes they are. This article will discuss that extensively. To begin with, what are career fairs?
Career fairs, also known as job fairs, are free events that enable job seekers, particularly students, to get linked up with organizations for job positions and internships.
It is a common tradition for some organizations when they are not in dire need of professionals or experts to scout for newly motivated graduates they can trust and perform energetically.
These organizations conduct these events by setting up a table in a section of the event; receiving and communicating with students on job positions or internships.
They conduct this process one after the other, so students must stay in the queue as it is a first-come, first-serve service.
Read Also 15 Good Career Choices For Introverts
Are Career Fairs Worth It?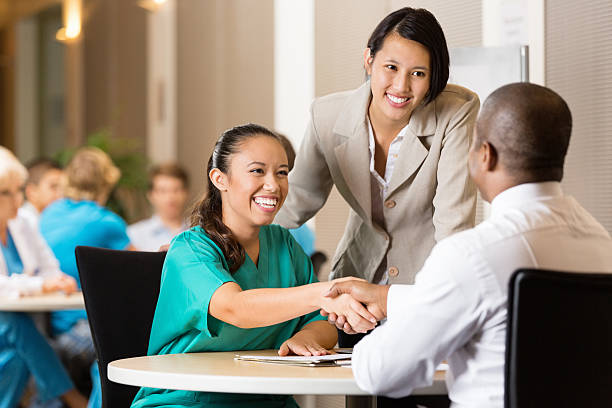 There are several things to gain from career fairs. Below are a few:
1.They Are Free
Career fairs are free and can lead to job interviews immediately, which is one of the top reasons they are worth it.
Do not pay to access job opportunities. Entry fees are a sign of fraud and how shady companies hold candidates.
Beware of any equal pay for job seekers. The biggest and most popular job careers are usually accessible and free.
Talking to companies at career fairs will help you feel more comfortable and confident.
You only have one chance to make a strong impression first and keep their attention.
2. A Way To Get Feedback
If you're an entry-level job seeker, it is good to ask what qualifications they want for students and the latest grades.
A career fair will give you an idea of ​​how companies decide who to hire if you do not have official work experience.
It is a piece of essential information that you can use to improve your progress.
Bring lots of copies and don't give your CV to employers to open a job; ask them what they think, or have any questions or concerns, and if there are any changes they would recommend based on what their company looks for in a selected person.
Most companies will happily share feedback with the nominees, whether you are attending a visual exhibition or speaking in person.
Read Also Is Other Consumer Services a Good Career Path?
3. Well-Thought-Out Elevator Pitch.
It is best that all job seekers, students, or experts, have a well-thought-out elevator speech ready. You never know when employers will ask you in an interview.
4. Job Networking
To create job networks, you can ask any company representative for a business card, or better yet, ask company representatives if you can contact them on LinkedIn.
By following this process and building relationships with employers, you will be able to stay informed about when different companies hire in a situation when they do not get the right thing during the event.
One of the great benefits of organizing a job fair is to allow students to network and build relationships with potential employers. On the other hand, the network benefits newly graduated students.
Career fairs, therefore, allow students to start a conversation with different companies in the industry of their choice.
If their industry and company are interested in you, it would be best if you kept in touch.
Save their information and reconnect several times a year.
Also, consider whether there are people in your network to whom you could refer now.
5. Job Openings
During the career fair, they get to talk to employers and learn about all the vacancies in their area.
Although many jobs are published online or in the job market, it cannot be apparent for students to understand which jobs best suit their skills and qualifications. Career fairs, therefore, save students the difficulty of looking for a job search engine such of their interest and skill set.
Students can familiarize themselves with the vacancies available. They know what they need to do to get a job without delay.
Read Also Careers You Can Pursue With An Allied Health Degree
6. Communication
A career fair enables students to learn how to dress or speak during an interview to make an opinion.
Visual events ensure that every student gets a chance to meet the employer in person and write down and start over.
The job fair allows graduate students to create a lasting image by interacting with employers face-to-face.
In addition, students can ask questions and acquire the industry knowledge, skills, and qualifications needed to fill certain positions. Based on this, they can do their jobs with higher chances of success.
Students get the opportunity to get all the information they need about companies that they can't find elsewhere.
By asking good questions at a job fair, you can reveal what jobs they have and what their careers often cost.
They can even make that connection while submitting the resume because professional HR repeaters can tell them how they can improve their launch again to ensure placement.
7. Visual Display
Visual displays attract the reader's attention, enabling companies to extract a name through the marketing pledge.
Companies can promote and develop strong product awareness among targeted audiences. They can display their company policies, benefits, and profits positively as a result, which can encourage skilled job seekers to consider their company.
Read Also How To Build A Career Regardless Of Your College Major
8. Scouting Opportunity
The career fair is an excellent opportunity for companies to scout for youngsters.
Educational institutions are often high-profile exhibitions. Thousands of educated students are willing and ready to go out in the job market.
When employers attend these university job fairs, they can contact talented young people before graduating, and another company can pick them up.
Even if the company has just offered an internship, you can hire less talent and build a stronger relationship that could become a significant employee contract with the employer over time.
Conclusion
Although job fairs are considered an inexpensive way to search for work, they can still greatly benefit students and companies.
The key is to find a specific job in your industry so you can get in touch with a team of qualified people.
A job career alone may not be enough to hire you, but you should also consider building long-term relationships with each company you find interesting.