The word "military" isn't complete without the use of weapons or ammunition. In order for new recruits to be prepared for the challenges of combat, they must first undergo basic training. This can involve a wide variety of military weapons and tactics. 
Basic combat training (BCT) is a program that all enlisted members of the United States Armed Forces must complete prior to being assigned to a unit with actual combat duties.
These weapons are used in many different situations and can be very dangerous if not used correctly.
This training is important so that soldiers are prepared for any situation they may face while in the military.
This article will discuss some of the military weapons used in BCT.
Types Of Military Weapons Used In Basic Combat Training (BCT)
Here is the list of military weapons used in Basic Combat Training:
1. M16A2 Assault Rifle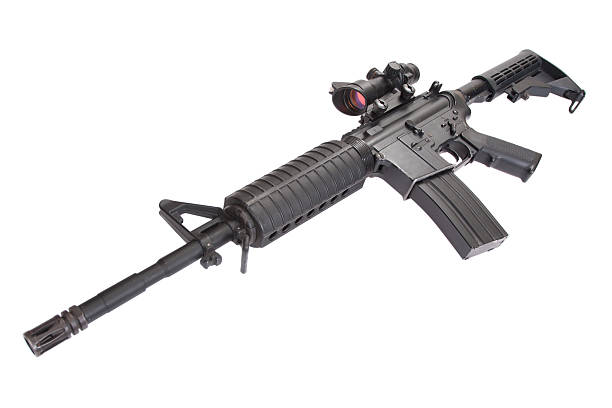 The M-16A2 assault rifle is a military weapon used by the United States Armed Forces. It is a 5.56mm caliber rifle that can shoot either semi-automatic or automatic.
The M-16A2 has been in use by the military since 1990 and has been updated with new technology over the years.
Some of its features include a Picatinny rail for mounting optics, a removable carrying handle, and a burst mode for firing three rounds at once.
The rifle is lightweight and can be easily transported. It features a three-round burst mode that allows the shooter to fire three rounds in quick succession. The rifle also has a built-in carrying handle and a scope for accuracy.
The rifle has both semiautomatic and automatic fire capability. The M-16A2 can be fitted with an M203 grenade launcher.
The M-16A2 is a reliable weapon that has been used in many combat scenarios. It is important for soldiers to be familiar with this weapon before they are deployed overseas.
Despite its age, the M-16A2 remains a popular choice among military personnel due to its accuracy and reliability.
Read also: Intelligence Careers In The US Marine Corps – Explained
2. M-4 Carbine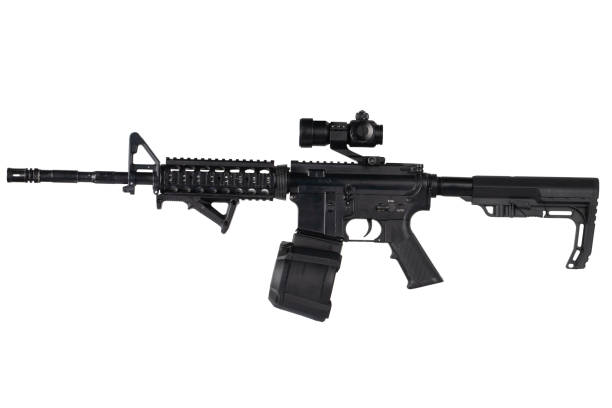 The M-4 Carbine is a lightweight, air-cooled, gas-operated military weapon that fires from the closed bolt position.
It has an effective range of 500 meters and a maximum range of 3,600 meters. The M-4 is equipped with a Picatinny rail for mounting optical sights and other accessories.
 It is also equipped with an under-barrel grenade launcher (UGL) and can be fitted with a bayonet. 
The M-4 Carbine is used extensively in basic training combat exercises. Soldiers are issued the weapon during initial entry training and are required to become proficient in its use.
It is lightweight and easy to use, which makes it ideal for inexperienced soldiers. The weapon is also customizable, which allows troops to adjust it to fit their needs.
This military weapon used in basic combat training also has a detachable magazine, which can hold up to 30 rounds of ammunition.
The M-4 has proven to be an effective weapon system and provides soldiers with the capability to engage targets at extended ranges.
3. M-9 Pistol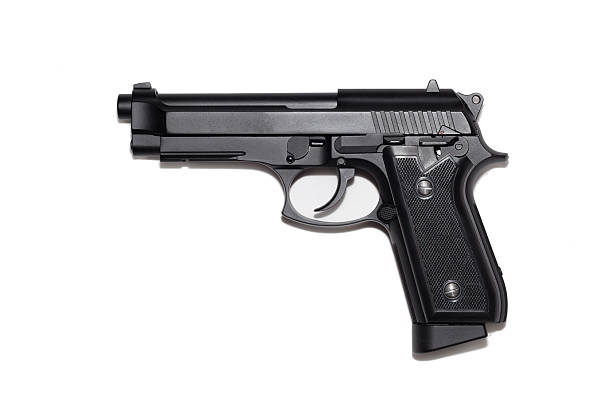 The M-9 Pistol is the standard issue sidearm for the United States Military. It is a 9mm semi-automatic pistol that has been in use since 1985.
The M-9 is used during basic combat training to provide Soldiers with a weapon that is both reliable and accurate, how to fire a weapon and defend themselves.
 The pistol has a magazine capacity of 15 rounds and features an ambidextrous safety selector switch and slide stop, which allows it to be fired by both left and right-handed shooters.
The pistol is also used in other military settings, such as during raids or when engaging in close quarters combat, and provides recruits with an understanding of how to employ a handgun in combat.
Read also: Marine Anti-Tank Missileman (MOS 0352) Job Facts
4. Sig Sauer P229 DAK Pistol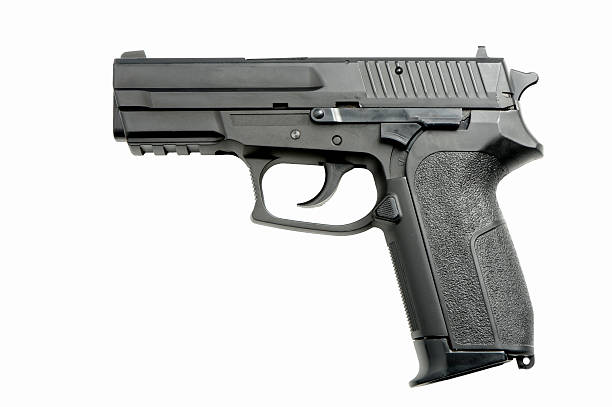 Sig Sauer is a firearms manufacturer that produces pistols, rifles, and ammunition. The P229 DAK pistol is a semi-automatic handgun that was designed for military and law enforcement use.
 It is a semi-automatic, short recoil-operated pistol that fires the 9mm Parabellum cartridge. The P229 has a magazine capacity of 13 rounds, and its dimensions are 7.1 inches in length, 5.4 inches in height, and 1.5 inches in width. It weighs 29 ounces unloaded and has a trigger pull weight of 8.5 pounds
It features a double-action-only trigger system, which reduces the risk of accidental discharge.
The P229 DAK is also equipped with a decocking lever, which allows the shooter to safely lower the hammer without firing a round.
This pistol is ideal for basic combat training because it is designed for safe operation and reliable performance.
5. Grenades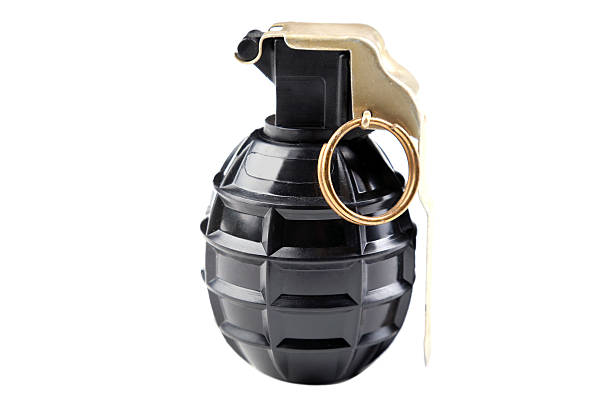 The grenade is a military weapon that is a small explosive device that is used to kill or injure people or destroy equipment.
Grenades are often used in military combat, and they can also be used in basic combat training.
There are a few different types of grenades, including the fragmentation grenade, the stun grenade, and the smoke grenade.
The fragmentation grenade is the most common type of grenade, and it is designed to explode into shrapnel that can injure or kill people.
The stun grenade is designed to create a loud noise and bright flash that can temporarily stun someone.
The smoke grenade is designed to create a large cloud of smoke that can help conceal people or equipment.
6. Bayonets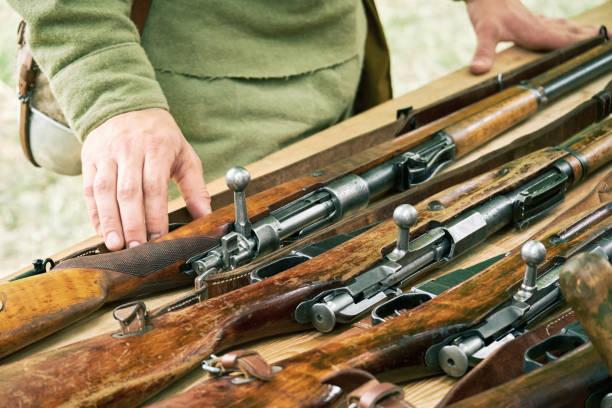 Bayonets are a type of knife that was originally used on rifles. They were used to pierce an opponent's armor or to kill wounded soldiers who couldn't defend themselves.
Bayonets have since been replaced by other weapons, but they are still used in basic combat training.
Bayonets are not very effective against armored opponents, but they can be deadly when used against unarmored targets.
They are also useful for close-quarters combat situations. Bayonets can be attached to the end of a rifle or they can be carried separately.
Bayonets are a valuable part of a soldier's arsenal, and they can be deadly when used correctly.
 Although they are no longer used in combat situations, they can still be useful in basic training exercises.
Also check: Medical Conditions That Can Keep You From Joining The Military
7. Mortars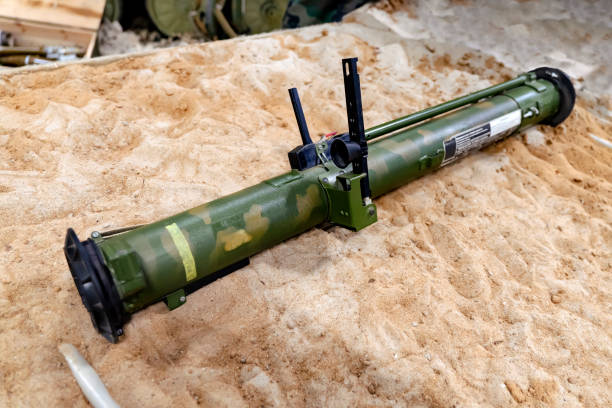 Mortars are a type of military weapon that is used in basic combat training. They are short- to medium-range indirect fire weapon that fires projectiles at high angles to allow them to fall onto targets behind cover.
Mortars can be used for both offensive and defensive operations, and are a vital tool for troops in urban combat situations.
Conclusion 
Military weapons are used in basic combat training to help prepare soldiers for the realities of warfare.
While these weapons can be dangerous and inflict serious injuries, they also provide soldiers with the skills and experience they need to survive on the battlefield.
With proper training and caution, these weapons can be safely used to help soldiers become proficient in combat.